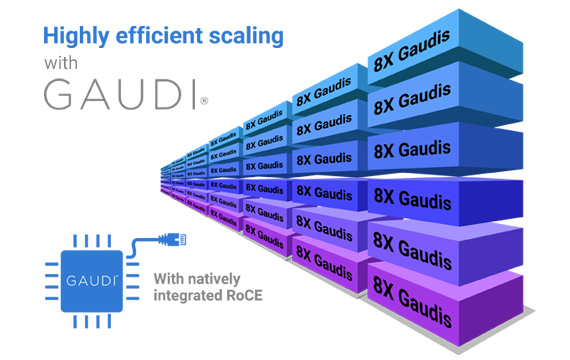 Habana's AI Training processors power the
Voyager supercomputer
With native integration of 6x QUAD-100 GbE in every Gaudi node, Habana's AI Training processors have been selected to power the Voyager supercomputer with one-of-a-kind, high-efficiency AI system scaling.
AMAZON ANNOUNCED COMING EC2 INSTANCES BASED ON GAUDI
Gaudi Training Products
EFFICIENT SCALE IS AT THE FOUNDATION OF GAUDI'S ARCHITECTURE
Gaudi:
The only AI processor to provide the
game-changing advantages of integrated,
on-chip RoCE v2
Habana integrates ten 100 GbE ports of RoCE RDMA over Converged Ethernet–into every Gaudi processor to deliver unmatched advantages to customers to efficiently scale AI Training from one processor to 1000s for data parallel and model parallel systems.
A NEW WAY TO SCALE WITH GAUDI:
THE HLS-1H SERVER
The HLS-1H provides unprecedented cross-sectional bandwidth with RoCEv2 RDMA. Featuring four GAUDI HL-205 mezzanine cards, each having ten 100GbE ports dedicated to scale-out, the HLS-1H delivers massive external scale out of 40x 100 GbE.
Scaling Training Details
HABANA SYNAPSE AI SOFTWARE SUITE FOR TRAINING
Habana's SynapseAI software suite is designed to facilitate high-performance DL training on Gaudi accelerators. The software suite includes Habana's graph compiler and runtime, communication libraries, TPC kernel library, firmware and drivers. SynapseAI is integrated with TensorFlow and PyTorch frameworks, and performance-optimized for Gaudi