Efficient scale-out for the large-scale generative AI era
Scale deep learning with native integration
of 24 100 Gigabit Ethernet on every Gaudi2 accelerator
Architected to scale deep learning acceleration from one to thousands of processors, Gaudi2 offers unique advantages of substantial scaling capacity with 24 100 Gigabit Ethernet ports on every Gaudi2. Integration of Ethernet connectivity provides tangible advantages of flexibility, efficiency and cost-efficiency.
Gaudi2
Accelerator Architecture
Gaudi2
Server Architecture
Advantages of Gaudi2
Integrated Connectivity
Gaudi2's integrated networking gives the customer greater versatility and freedom to build the system that fits their needs
Large-scale-capacity
All-to-all scale-up
2.4TB scale-out
Reduces network bottlenecks
Flexible
Non-proprietary,
industry standard
Scale from one to thousands of Gaudi2s
Wide variety of
Ethernet switches for build out
Efficient
Most data centers already utilize Ethernet
Ease of build with industry standard
Cost-efficient with breadth of Ethernet choices
Control
Industry standard
No vendor lock in with proprietary solutions
Cost control through choice of system equipment
Scale-out scenarios
Optional Components / Examples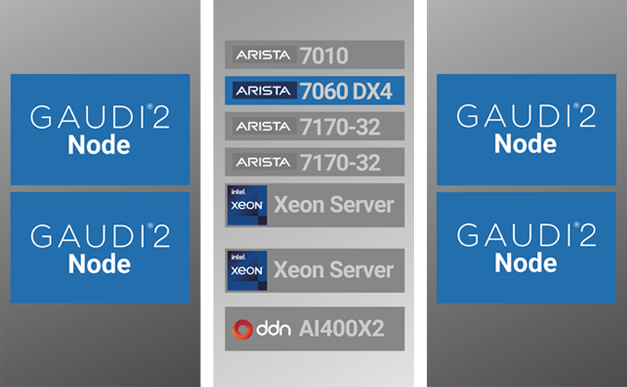 Small Pod Architecture
16-40 Gaudi2s (2-5 servers, with 8x Gaudi2 each)
Large Pod Architecture
Supports variable ratio of nodes-to-switches
3x 400G switches + up to 128 Gaudi2s (16 servers with 8x Gaudi2 each)
Gaudi2 MegaPod Architecture
Large clusters can be easily built using multiple MegaPods
8 Gaudi2 servers & 3 switches
8x Gaudi2 per node (server)
Leaf switches are placed close to Gaudi2 nodes to minimize communication latency
Copper cables can be used within pod
For access to Gaudi2 servers, see Supermicro.

For access to Gaudi2 servers in China, Contact us.