Purpose-Built
AI Processors
for the cloud
Habana processors are designed to deliver
cost-efficient and easy-to-implement AI workloads in the cloud
With the demands of generative AI and large language models for massive and efficient AI compute, Habana® Gaudi® processors offer proven, price/performance advantages to cloud service providers, enabling them to deliver cost-efficient training and inference at any scale. Habana's SynapseAI® software and Gaudi hardware were architected for training and inference performance and efficiency, so end-users can train and deploy larger data sets and retrain models more frequently, increasing deep learning workload accuracy and applicability.
Habana is committed to making it easy for cloud service providers and their end-customers to develop and deploy Gaudi-based models with relative ease and support. Our SynapseAI® software platform integrates PyTorch and TensorFlow frameworks, and supports the growing array of generative AI, large language, computer vision and natural language models. We provide data scientists and developers with documentation, "how to" guides and videos, community and Habana support forums, and tools on the Habana Developer Site and on the Habana GitHub.
Twenty-four 100-Gigabit ports of RDMA over Converged Ethernet (RoCE) are integrated into every Gaudi2 processor, giving cloud providers flexible and expandable networking capacity, enabling optimization of networking within the server node with all-to-all processor connectivity. And, integrated RoCE on every Gaudi2 gives CSPs and their customers a near-infinite array of cost-effective options for scaling out across nodes and racks, with versatile AI compute capacity based on affordable, industry-standard Ethernet technology.
Learn More about Habana AI Processors in the Cloud

Watch the Video>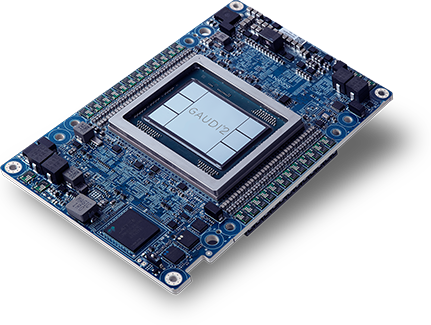 Habana is proud to partner with AWS to deliver the industry's most cost-efficient AI training instances with the new Amazon EC2 DL1 instances.
See the Details
Scaling cloud capacity

with Gaudi integrated RoCE
All-to-all connectivity optimizes network capacity within the node
Industry standard RoCE offers efficient scale-out across nodes and racks.
6 X 400 GbE
scale-out node
7 100-GbE ports for all-to-all connectivity
u 3 100-GbE ports for scale-out
u 42 training nodes in Voyager
Seven 6-node racks
252 X 400GbE QSFP-DD
Connect to centralized networking switch
Learn more about

Gaudi AI training cloud.
Contact us