High Performance.


High Efficiency.

As enterprises and organizations look to seize the growing advantages of AI, the time has never been better for AI compute that's faster yet efficient. Efficient on cost, power, and your time and resources. That's why you'll want to give Habana Gaudi processors a try.
View the Webinar
Maximizing the Power of Gaudi2: Accelerating Generative AI and Large Language Models
Built and Architected


for Deep Learning Training
and Inference.

The Gaudi acceleration platform was conceived and architected to address training and inference demands of large-scale era AI, providing enterprises and organizations with high-performance, high-efficiency deep learning compute.
2X the performance
Deep Learning Compute
Performance
Gaudi 2 delivers 2x the performance of A100 on CV, NLP and large scale models in better price performance than H100..
MAXIMUM EFFICIENCY
Lower Power with Lower Cost Equals
Efficiency
Gaudi architecture has demonstrated up to 40% better price/performance on Amazon EC2 instances.
MASSIVE SCALABILITY
Near-linear
Scalability
With 24 100GbE ports integrated onto every Gaudi2, system scale is massive and cost-effective.
SIMPLIFIED EASE OF USE
Developer Ease of Use &
Support Prioritized
Our industry-leading SynapseAI Software lowered the bar to model migration and build.
Habana Deep Learning Processors
Designed at inception for the Large-Scale Era.
Habana® Gaudi® Processor
First-generation delivering price/performance leadership for both deep learning and inference.
Learn More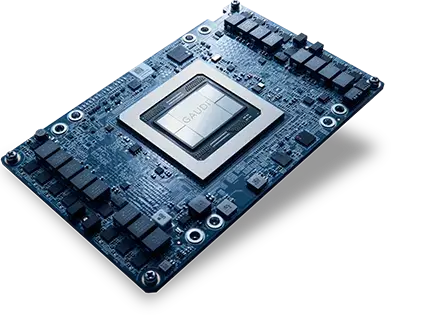 Habana® Gaudi®2 Processor
Second-generation providing optimal competitive performance and scalability for deep learning training and inference.
Learn More
Explore Gaudi Usability & SynapseAI
Optimized, for deep learning model development and to ease migration of existing GPU-based models to Gaudi platform hardware.
Explore Usability
Applications
AI in Industries
AI/Deep Learning has been shown to be useful to nearly everyone in nearly every experience—and increasing in value delivery.