Driving AI Efficiency

in the Datacenter
Habana partners with Supermicro
to enable customers who need AI performance, efficiency and usability in their on-premises systems.
Supermicro offers server options for both Habana Gaudi and Gaudi2 Training and Habana First-generation Inference accelerators.
For Advanced Training and Inference Performance
With a leap in deep learning training and inference performance while preserving cost-efficiency.
Supermicro Gaudi®2 AI Training Server SYS-820GH-TNR2.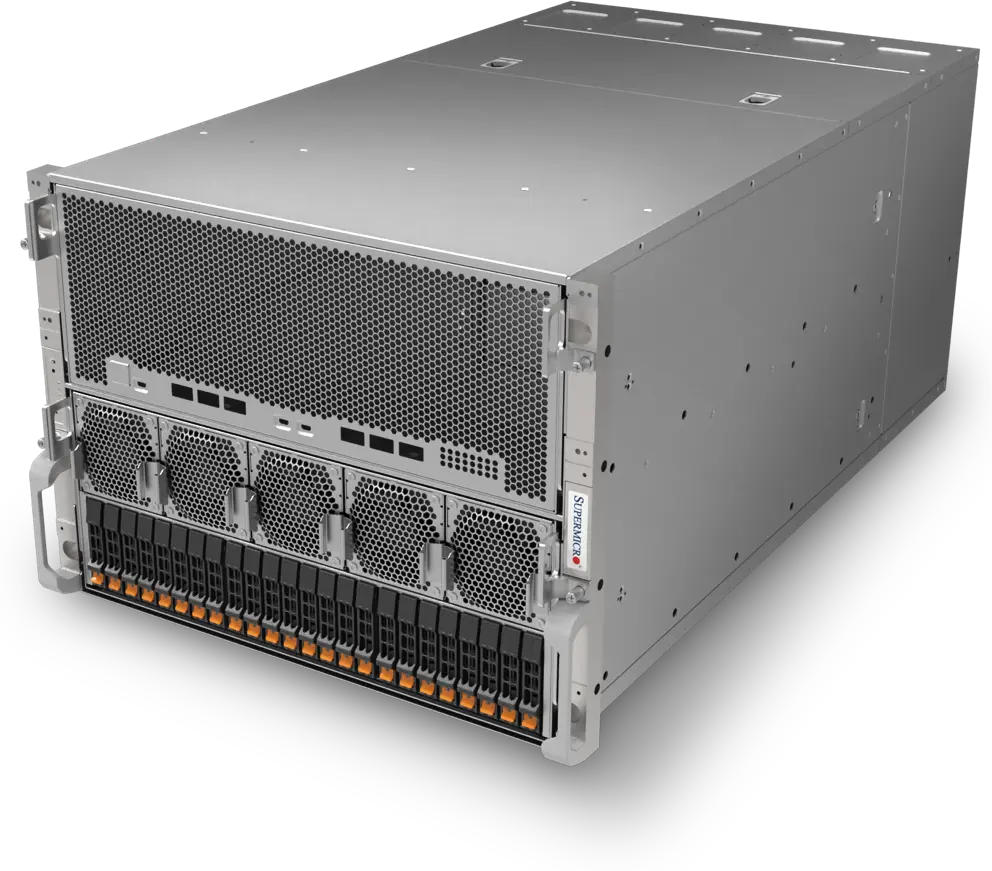 Featuring eight Habana® Gaudi®2 AI Training Processors
Dual 3rd Gen Intel® Xeon® Scalable processors
Expanded networking capacity with 24x 100 Gb RoCE ports integrated onto every Gaudi2
700 GB/second scale within the server and 2.4TB/second scale out
Ease of system build or migration with Habana® SynapseAI® Software Stack
For cost-efficient training and Inference
Designed to deliver AI training efficiency, usability and scalability:
Supermicro X12 Gaudi Training Server: SYS 420 GH-TNGR
Featuring eight Habana Gaudi HL-205 processors
Each Gaudi processor contains ten 100 Gb RDMA over Converged Ethernet (RoCE) ports
Dual-socket 3rd Gen Intel ® Xeon® Scalable Processors
Two PCIe Gen 4 switches
Four hot swappable NVMe/SATA hybrid hard drives
Scale out with 24x 100 Gb RoCE ports (six QSFP-DDs)
32 DIMMs; up to 8TB of DDR4-3200MHz
Inference
Supermicro 4U Server SYS-4029GP-TRT2 featuring Habana First-generation Inference accelerators delivers superior AI inference efficiency and latency
Up to eight Habana First-generation Inference accelerators
Dual-socket 2nd Gen Intel® Xeon® Scalable Processors
24 DIMMs; up to 6TB 3DS ECC DDR4-2933MHz
Single Root System for excellent AI processor peer-to-peer communication with sufficient CPU to AI processor throughput
11 total PCIe Gen 3 slots
Hot-swappable high RPM fans
Supermicro AI Training and Inference systems
Based on Habana processors are supported by Habana SynapseAI® Software Suite, offering:
Integration of TensorFlow and PyTorch frameworks
Popular models for computer vision and natural language processing applications
Habana Kernel Library and enablement of Custom Kernel Development
Habana offers extensive support for data scientists, developers, and IT and Systems Administrators with its:
Habana Developer Site: featuring documentation, customer-available software, "how to" content, community Forum
Habana GitHub: providing reference models, set-up and install instructions, snapshot scripts for analysis and debug, custom kernel examples,
roadmap, and "issues" sub-site tracking to dos, bugs, feature requests and more
Learn more about Habana's first-generation Gaudi and Gaudi2 systems for on-premises implementation.
Contact us